Natural Endeavors Landscaping, Inc.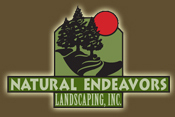 Booth: 1358
3351 Round Lake Blvd
Natural Endeavors has been providing the Twin Cities with beautiful landscapes and designs since 1996. Our team integrates plantings, natural stone, pavers and walls, water features, and outdoor lighting with accent boulders to create a landscape that fulfills our mission and leaves our clients with a long lasting landscape that will be beautiful for years to come. Natural Endeavors is committed to enrich the beauty and value of your property while exceeding your expectations throughout the entire landscape process.