Extreme Panel Tech., Inc.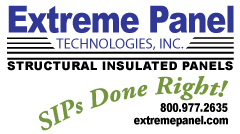 Booth: 2557
PO Box 435
Extreme Panel Tech., Inc. is a manufacturer of Structural Insulated Panels (SIPs) for residential and commercial use. Extreme Panels is a family-owned business located in southwest Minnesota and has been manufacturing SIPs since 1992. We pride ourselves in offering the most complete package for your exterior structure while providing the best customer service in the industry. The panels are precision cut by a CNC machine according to computer-generated drawings. SIPs are conducive to green building because of their energy saving properties. The super tight envelope reduces the demand for energy and promotes a healthy indoor environment. Increased energy efficiency will do more to protect the environment than filling the home with so-called "green" products. BUILD STRONGER, FASTER, GREENER. BUILD WITH SIPs.
Visit us at www.extremepanel.com and/or give us a call at 1-800-977-2635.